Nash to Shaq: Eat My Ass Fat-Man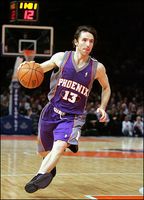 It seems that basketblogging is the thing now so if I may interject: Steve Nash is one cool motherfucker. Sure he is rumored to have banged goddess Liz Hurley, but he is also smart and lets his teammates dunk whenever they want. Maybe Shaq should be the MVP, but Nash works, he got it because he's white, right?
I remember the 2003 All-Star Break when Nash showed up for a shoot-around rocking a shirt that said: "No War, Shoot for Peace." Later Nash told foamy reporters that, "I believe us going to war would be a mistake. Being a humanitarian, I think that war is wrong in 99.9 percent of all cases."
Nick Van Exel, who at the time backed up Nash but made twice as much loot, applauded Nash's courage and long hair, "The Americans on the team, we just think President Bush is giving people a bad name." But Nash's liberal bellyaching attracted some not-so-nice comments from other colleagues (and by colleagues I mean people who throw an orange ball through a small hoop for a living). Former Navy Grad and high-top king David Robinson said, "If it's an embarrassment to them, maybe they should be in a different country. This is America, and we're supposed to be proud of the guys we elected and put into office." Flip Saunders repeated the Admiral's rhetoric also. But maybe it is the Admiral who should shut his mouth because now Nash is king and Robinson works at the Pep Boys on Carrollton…so where are all of Nash's endorsements then you ask?
It is a little weird that that league's MVP does not star in any of the NBA's promotional ads or any Nike or Adidas spots. Toronto Star business columnist Rick Westhead offers his three-cents: "(He) is far from being a marketer's dream. While many of his NBA peers favor the likes of Vibe magazine, Nash reportedly has read the autobiography of Che Guevara and to get a better a better idea where the Cuban revolutionary was coming from, he also turned to Karl Marx's 'The Communist Manifesto.' [in reference to a NYT article about Nash]"
Where activism and politics used to get standing ovations in sports, athletes now wet their pants at the thought of speaking their minds. Arthur Ashe led a campaign against Apartheid; Billie Jean King (even though it is impossible for lesbians to get knocked up) cheered for the right to choose; and this guy named Cassius Clay even went to jail because he didn't want to shoot Vietnamese people.
Check out this
Nation article
and see where the voices in sports have gone. I told my roommate the other day I think it would be so cool if a superstar athlete (LeBron I'm looking at you) would say something about say the working conditions in a Nike factory. After Kathie Lee Gifford's sweatshops were revealed in '92, MJ took some heat for Nike. He took the fifth in a press conference before the finals where questions about his affair with Dennis Rodman shifted to queries about working conditions. I don't think MJ was that cool, I think he was probably a cocksucker to play with, ask Bill Cartwright about this clip from a '91 Chicago Tribune article:
So he [his Airness] told Grant, then-Bull Sam Vincent and Scottie Pippen - the three players who were usually on the floor at the end of games with him - that they were not to pass Cartwright the ball in the last four minutes of a game.

"If you do that," Jordan said, "you'll never get the ball from me."And suddenly, plays called by Collins were being ignored as Jordan took the ball to the basket. But who could really complain, since the Bulls had started to win? Eventually, though, word got back to Cartwright. He didn't do or say anything to anybody until late that season, when he told Jordan he needed to talk to him.