A Tribute to the Gentlemen of White Hip-Hop (Part II)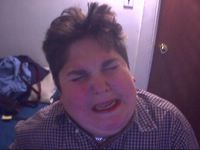 UPDATE: OK...so it's quasi-official that Andy Milonakis is indeed a 29-years-old failed accountant/comedian a la an
interview in Radar Magazine
.
Yeah, you got beef? Yeah, you got beef? I fuck your mother in her dumb teeth. Cause her teeth has a pussy. But I like when her teethy pussy is on me. It's on my dick and it feels real slick. But yo - it kinda scrapes me. Yo, I'm depressed, I kinda hate me. I hate me more than you do, Dad. Are you glad that I moved out? Are you glad that I shout?When you touch me on my no-no spot, you fuckin' blood clot, I hope you fuckin' rot in hell.
I can't take credit for the hotness above - as much as I would like to. The lyrical prose listed in the previous paragraph could most certainly only have come from one of Andy Milonakis' cult freestyles (see the video
here
). Just like so many pieces of worthless media that infect the internet, reaffirming the freakshow status of the actor and the consumer (for getting satisfaction), Andy's impromptu antics have made him a self-proclaimed "Internet Hero." While Andy wraps his wits around such cheery topics as pedophilia, incest and beastiality - we sit back and crack-up about how fat the actor is, how bad his skills are and how twisted his personal life must be to create such an odd product (peep the lyrics to Andy's freestyles
here
).
But Andy may not be such a boy. I have heard from at least half of Andy's most devoted fans that he is in actuality a 28-year-old manchild posing as a 14-year-old fat kid. Either way, his grace and dignity and song "
The Super Bowl is Gay
," caught the attention of Jimmy Kimmel and Jackhole Industries who successfully pitched the fatass to MTV. I was lucky (read:drunk) enough to catch an extended clip of the
Andy Milonakis Show
at four in the morning the other night and it seemed like a more obnoxious version of Tom Green. Milonakis romps through the LES of Manhattan confusing elderly residents. The wunderkind caused enough havoc as to draw attention from the NY Post (who will never get a plug again)
here
. I must say that I am excited by the show and expect that its viral success on the internet will be translated into late-night MTV stoner success a-la
Sifl and Olly
.
Get to know Andy a little more intimately
here
in a brief interview with the reclusive genius. I leave with a passage from one of his most oft-quoted works:
Orange Juice raped my father
so that must make him gay
Because as you know
Orange Juice is a male
word.